Mike and Cheri Callaghan are the Owners and Brokers. They opened the agency in 2008 hoping to creatively apply their unique talents to real estate business. Mike is a successful attorney for Neely & Callaghan and has had experience as a federal prosecutor, WV Cabinet Secretary and in the private sector. Cheri has owned or co-owned several award winning marketing advertising and public relations companies. In 2015 they were presented with a rare opportunity to affiliate with the world's most respected brand: Berkshire Hathaway. On August 24, 2016 they celebrated the launch of the Berkshire Hathaway HomeServices Great Expectations Realty, merging the power and prestige of the Berkshire Hathaway name with the Charleston's most trusted Real Estate Company. Although the name of the company has changed, their commitment to our REALTORS® and community remains unchanged.
Alan is our company's Sales Manager & Relocation Director. As Sales Manager he assists the Brokers interviewing and hiring new sales associates, tracking individual sales activities and overseeing Sales Meetings. As Relocation Director, Alan ensures that we remain certified in all national relocation companies, monitors agent eligibility and handles all referrals. Alan is also a licensed REALTOR®.
Melanie is our Listing and Contract Coordinator and brings over two decades of real estate business experience with her. She is quick on her feet and thorough in her job. She processes all listing and contract paperwork and if she doesn't know the answer no one does. Mel also assists Alan in ensuring the front office is run efficiently and smoothly.
Joe is our Operations Manager & Chief Financial Operator. He is also the go-to guy for everything tech related- from the company server to our individual phones. He is a licensed REALTOR® and handles property management for the company. He is also the liaison to the Berkshire Hathaway HomeServices Commercial Division. Joe graduated from Marshall University in Management Information Systems and Economics.
Vanessa is our in house bookkeeper handling all closings and financial tasks associated with commissions and agent bills. She also assists the Brokers with managing the Trust Account. She is a licensed REALTOR® and has been with our company since 2012.
Brandy is our Marketing Director and is primarily responsible for developing a company marketing strategy and maintaining branding compliance with Berkshire Hathaway HomeServices. She assists REALTORS® on an individual basis to develop strategies and collateral to use in their individual marketing. She also plans and implements company community events and special projects.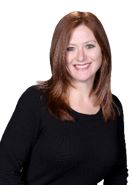 Melanie is the Education Director with over two decades of experience in the real estate business. In addition to being the Education Director for us she is the Education Director for WV Association of REALTORS®. She is active both in local and state associations. She was instrumental in starting the first chapter of the WV Women's Council of REALTORS® and currently serves as president. Although in-charge of the training of all our REALTORS®, new agent training is her primary focus.